Who we are
We are hospital physicians who see your frustration with loved ones stuck in the hospital. They get weaker by the day without enough exercise, do not get the proper attention at meals, and the staff constantly changes.
They do not have consistent care from someone who knows them and understands their unique needs. We hear your frustration with the lack of communication and the generic discharge plans focused on the hospital rather than the patient.
Seniors with low mobility in hospitals are 5.6 times more likely to require a nursing home at discharge.
Seniors Are Settling With the Current Healthcare System
Your loved one deserves better than that.
Beyond Neighbours is Successfully Getting Seniors Out Of The Hospital Faster. They shouldn't be forced out of their home in order to gain the benefits of more care options under one roof. Beyond Neighbours brings together an incredible community of physicians and care professionals to support you and bridge the gap from hospital to home.
We bring all of your care options under one roof – your roof.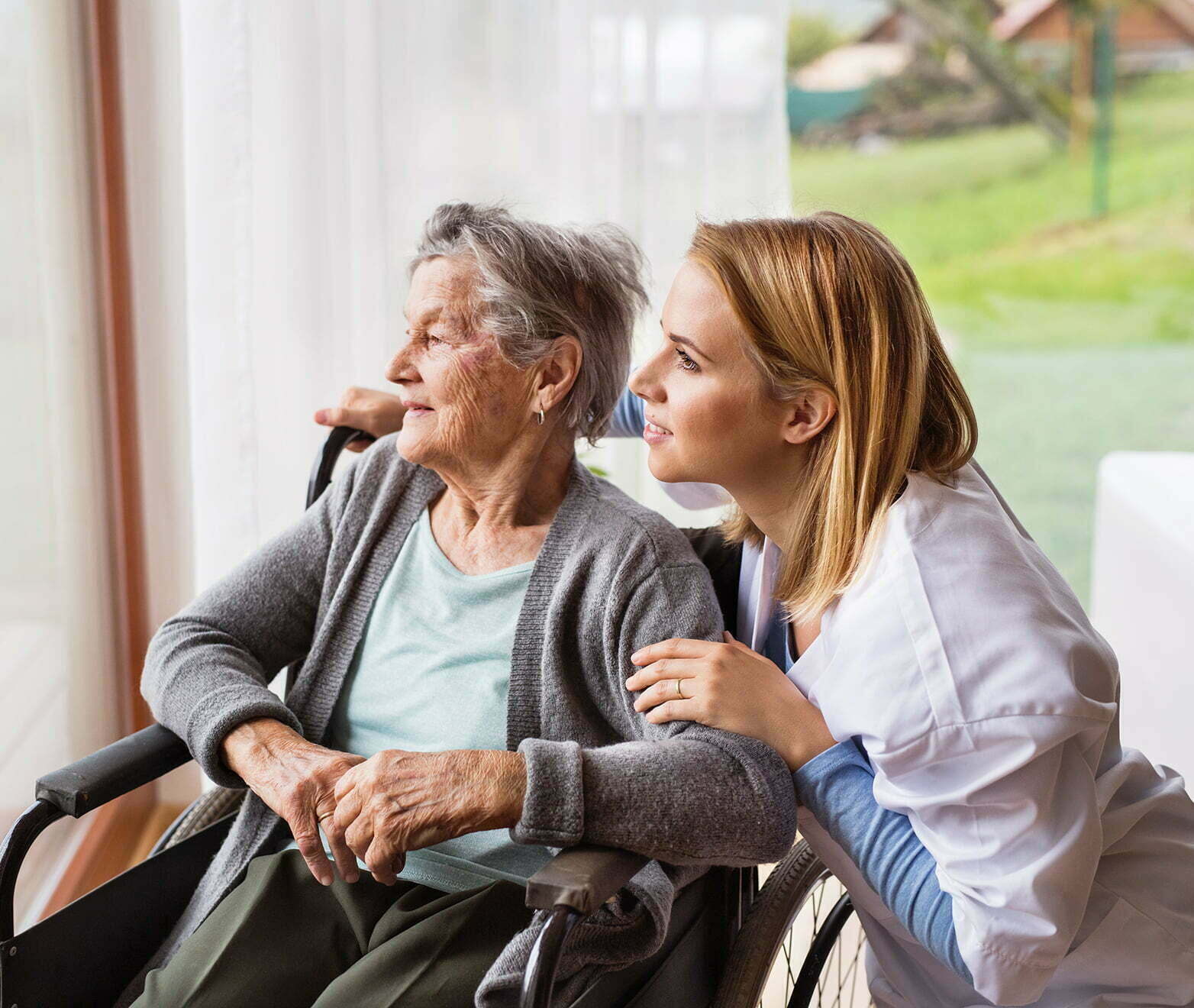 Customized hospital discharge packages.

All the health professionals you need – in one place, your home. They come directly to you.

Physician-led – we understand the needs best / been in the trenches.

Regular healthcare reviews by the medical team.

Familiar face you can trust.
Professionals at your Door
You don't have to be overwhelmed with where to start when your loved one comes home from the hospital with an acute illness or after surgery.
Your unique needs can be taken care of with a customized discharge package that checks all the boxes.  We have an incredible roster of:
Here's Why Families Love Connecting With Us
Familiar Faces You Can Trust
You won't experience a revolving door of home care providers. Your family becomes part of a community that supports what you need when you need it. Our flexibility allows you to feel confident about any age-related transitions you may encounter.
Peace of Mind
Families get peace of mind having a better understanding of the system and where their loved ones are going. You deserve quality care, dependability, and exceptional standards regarding your loved one's health plan.
Comfort Meets Convenience
You don't need to compromise on comfort and convenience when it comes to healthcare. We can help you navigate through your options to return home faster.
Here's What Calgary Families Had to Say
Maryann Bredin
2022-11-17
My mother had been in hospital for nearly 5 weeks after falling and breaking her arm, thus rendering her immobile since she couldn't operate her walker with arm. She was becoming weaker and weaker and I wanted to get her back home to her seniors' residence where she was more comfortable. They would not allow her to return without 24-hour care because she was so fragile. I called several home-care services and found Beyond Neighbours was the most attuned to our needs and helpful with services they could suggest to help my mother. I really didn't expect her to last very long; she was 96 years old and really seemed to have very little energy for living, but I at least wanted her to go comfortably in her own home, surrounded by family and familiar belongings. She received such excellent care from Beyond Neighbours staff, working in conjunction with the staff at her assisted-living residence, that she not only improved but actually reached a higher level of functioning than she had when she first went into hospital! She just celebrated her 97th birthday and is doing so well that she now only requires extra help for 12 hours instead of 24 (just to ensure she doesn't have a fall when she gets up in the night). She is more alert, lively and engaged than she has been in years, and we can thank the outstanding staff at Beyond Neighbours for that.
We would highly recommend Beyond Neighbours. As a service provider, Beyond Neighbours is professional, flexible and easy to work with. All the staff we have met are kind, compassionate and always put our mother's best interest first.
Without hesitation I fully endorse and recommend the services of Beyond Neighbours. Everyone who we were introduced to was professional, well trained and ultimately had the client's interest at heart. After years of Home Care for my Father, we had experienced everything from neglect and untrained workers, workers who failed to keep appointments and workers who were unprepared to deal with his needs. Private Healthcare Companies who often transferred their inabilities to manage staff and clients to the family members. Giving no consideration to the impact on the lives of family caregivers. How grateful I was to be referred to Beyond Neighbours. I have nothing but admiration for the efforts of this Company for the care that they took of my Father. From the personal introductions, the training, the detailed care plan to the quick access for Medical direction. I was impressed when one of the owners took the time from his busy Medical Practice to call and speak directly with me to discuss the Company's goals for Homecare services and Family Caregiver's support. Everyone from Beyond Neighbours who assisted with the care of my Father exhibited nothing but extreme professionalism. Compassion for the care of their clients and respect for the family caregivers describes this Company. Wishing we had been introduced to Beyond Neighbours earlier. Rodney Bell
I've had a great experience with Beyond Neighbors since they started providing companionship for my mother. Their staff are bright, professional and responsive. The focus is always on my Mom's wellbeing. And I really appreciate the open and clear communication. Would recommend to anyone needing help caring for a loved one.
Duncan MacFarlane
2021-09-14
Rose is a compassionate caregiver who has a great company. Brita came twice weekly to assist my 96 year old mum during the month that mum was visiting. Always on time, very caring and pleasant. Beyond Neighbours was very flexible if any changes in times or days were required. Their rates are excellent. Highly recommended.
We needed to get care set up immediately for my mom who was being discharged from acute care. Rose did the assessment of care needed over the phone and came out with minimal notice to meet my mom and family and initiate care. Care was provided to my mom with such dignity and kindness and my mom was very pleased. I can't say enough about this company and I did significant research before we hired them. The cost was comparable to other companies but the care was outstanding. I would use them again and have recommended them to other friends and neighbours. They are angels!! Diane